The Ultimate Guide For Custom face mask
1.1 What is a face mask?
A face mask is a personal protective device that covers the nose and mouth. It includes surgical masks, procedure masks, isolation masks, and so on.
1.2 Types of different Masks
According to the usage of masks, it can be divided into three major types, mask for medical use, mask for daily use and mask for industrial use.
1.3 Standards for different mask in different regions
Regions

Mask for non-medical use

Mask for medical use

China

Mainland- GB 2626-2019

Mainland – GB/T 32610-2016《Technical specification of daily protective Mask 》

Taiwan – CNS 14755-2003

Taiwan – CNS 14756-2003

Mainland – GB 19083-2010《Technical requirements for protective face mask for medical use》

Mainland – YY 0469-2011《Surgical Mask 》

Mainland – YY/T 0969-2013《Single-use medical face mask》

Taiwan – CNS 14774-2003

U.S.

CFR 42-84-1995《NIOSH Guide to the Selection and Use of Particulate Respirators》

ASTM F2100-2019《Standard Specification for Performance of Materials Used in Medical Face Masks》

Europe

EN 149-2001+A1-2009《Respiratory protective devices – Filtering half masks to protect against particles – Requirements testing marking》

14683-2019《Medical face masks – Requirements and test methods》

Japan

JIS T 8151-2018《Particulate respirators》

South Korea

KS M 6673-2008《Dust respirators》

Australia

AS/NZS 1716-2012《Respiratory protective devices》
1.3 Disposable Mask vs Foldable respirator
Disposable masks usually refer to masks in a plain fabric shape, including non-sterilised disposable and surgical masks. Classical flat fold mask consists of a majority of disposable masks as well as cloth masks, including disposable medical Mask and surgical Mask.
The foldable respirator has a variety of shapes, with typical shapes of flat fold mask, cup-shaped Mask and fish-shaped Mask.
Comparing the protective efficiency of anti-virus, a foldable respirator is several times more than the standard disposable mask.
1.4 FFP2 VS N95 VS KN95
In addition to the disposable Mask and surgical Mask, FFP2, N95 and KN95 are the major mask types that are popular in the market. They are three different types of masks but with similar protective efficiency.
FFP2, CE marked by authorized notify body
To ensure circulation in the European market, all FFP2 masks need to CE marked by an authorized notified body, which requires a test report of the Mask (Module B)and a factory audit report (Module C2 or Module D).
FFP2 mask must be tested according to EN149 before getting Module B. One of the primary tests is the filtration test. It requires the mask to be tested with NaCl and paraffin oil agent, and the performance must be more than 94% efficient.
Compared with Module D, Module C2 is easier for the manufacturer to achieve. Module C2 means the procedure for the annual product check. During this procedure, masks will be randomly sampled and tested, and other written documents are asked to be submitted to the notified body. The mask can be CE marked if they get Module B because a factory audit is not required.
However, a factory audit is necessary for Module D. Module D refers to the production quality assurance conformity procedure. Many things will be examined during an audit to ensure that masks are qualified and manufactured under the regulation.
N95, NIOSH certificated, and FDA registered
A qualified N95 must be tested and approved by NIOSH and monitored by FDA.
NOISH, the National Institute for occupational safety and health, is responsible for the testing and approval of respirators. FDA is in charge of monitoring the respirators. Hence if you want to sell N95 respirators in the United States, you need to get the NIOSH approved test report and register with FDA。
N95 is only asked to be tested with the agent of NaCl, and the performance has to achieve 95%. A factory audit is also a must before approval by NOISH.
KN 95 is a national standard for protective Mask in China, which is similar to N95 and FFP2
| | | | | |
| --- | --- | --- | --- | --- |
| | FFP3 | FFP2 | N95 | KN95 |
| Filtration Efficiency | 99% | 94% | 95% | 95% |
| Regions | Europe | Europe | United States | China |
| Regulation | EN 149-2001 | EN 149-2001 | NIOSH CFR 42-84 | GB19083—2010 |
| Issuing Party | Notified Body | Notified Body | FDA | |
| Testing Agent | NaCl, Paraffin oil | NaCl, Paraffin oil | NaCl | NaCl |
| Monitor Party | | | FDA | |
The table summarises the similarities and differences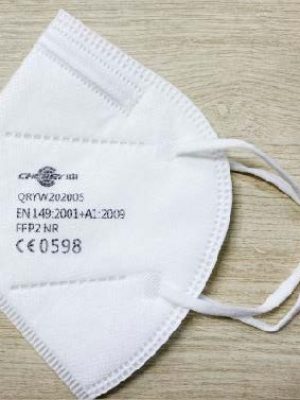 FFP2 FACE MASK
NaCl and Paraffin oil test >94%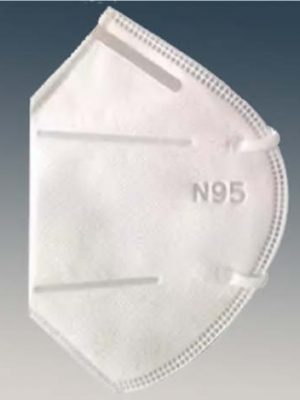 N95 FACE MASK
NaCl test > 95%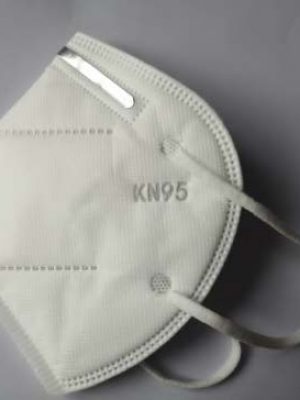 KN95 FACE MASK
NaCl test ≥ 95%
1.5 FFP2 VS FFP3
Comparing FFP2 and FFP3 masks, FFP2 is more comfortable to be worn because of the lower breathing efficiency. However, the protective performance of FFP3 is three times more than FFP2, which could even be used in nuclear power stations.
TYPE

Maximum transmittance of aerosol agent

Filtration Efficiency

NaCl(Non-oil resistance) %

Paraffin oil(OIl resistance) %

FFP1

20

20

80%

FFP2

6

6

94%

FFP3

1

1

99%
1.6 Surgical Mask VS Disposable Mask
Same protective effectiveness.
The surgical mask needs to be sterilized, which is not required for a normal disposable Mask
A blood splash test is a must for surgical masks, not for disposable masks.
Prices of surgical masks are several times more than disposable masks.
Note: Surgical masks must be sterilized. Nowadays, major sterilization uses epoxy ethane with a 400g/L density. Since epoxy ethane is flammable and explosive, surgical Masks can't be shipped as soon as they are sterilized. They need to be stored for 7-14 days until the density of epoxy ethane is down to the safety level.
1.7 Tie-on Mask VS Ear-loop Mask
Masks and respirators can be divided into two types tie-on type, and another is ear-loop.
It is easy to be worn since you don't need to tie it behind your head. However, leakages happen easily at the place of your nose, chin and cheeks. Moreover, your ear may ache if the size doesn't fit very well.
It is a little bit difficult to wear and may take a minute if you are unfamiliar with this type of mask because you have to knot the ties behind your head.
Effective protection is the core purpose of wearing masks. Compared with an Ear-loop mask, a tie-on mask fits your face better as well as has a protective performance. So it is suitable for use in most situations and especially crowded places.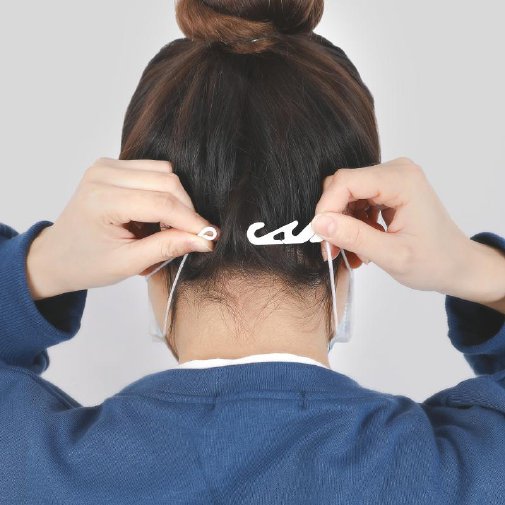 Ear-loop for low risk
Ear-loop face mask suitable for low risk situations. It is recommended to use it with a hook to relieve ear pain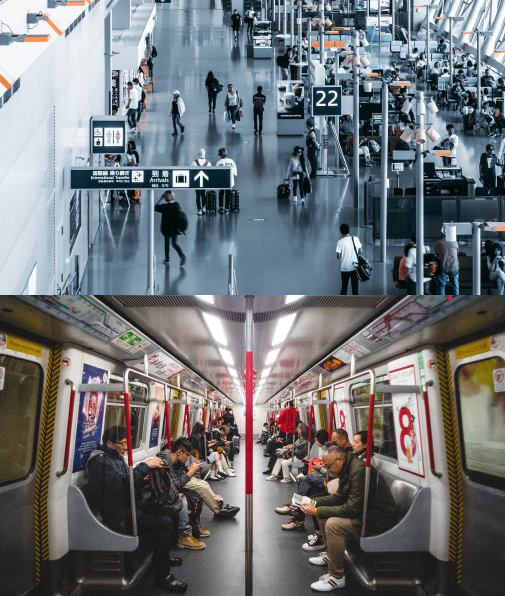 Tie-on Mask for high risk
Tie-on face mask suitable for high risk situations. In densely populated areas such as subways and airports, wear them for a long time
1.8 Flat-folded VS Cup shaped vs Duckbill respirator
According to the shape of the respirators, they can be divided into the following three types, flat-folded, cup shape and duckbill shape.
2. Major testing items of all mask and respirators
2.1 Leakage rate
The leakage rate refers to the air leakage caused by the poor sealing of the mask, which cannot be completely filtered.
Do you feel fuzzy if you wear glasses with the mask? It is because some air is leaked from the Mask side and cannot be filtered. So the total inward leakage is to examine how much air will be breathed but without filtering, which is an important characteristic of a qualified mask.
The bigger the ratio of inward leakage, the bad performance will be. That many "comfortable" masks can't pass the total inward leakage test and can't protect you from the virus.
The sponge part can significantly solve the air leakage of the mask.
Many so-called "comfortable" masks are because the leakage rate exceeds the standard and are too "breathable";
When wearing a mask, fogging of the glasses and air flu on the cheeks are all signs of air leakage;
Mask leakage will significantly reduce the protective effect and greatly increase the risk of infection, so we must try our best to avoid it!
2.2 Filtration efficiency
Filtration efficiency is the most crucial item for a mask. Particle Filtration Efficiency (PFE) Test test is a must for all masks, and the Bacterial Filtration Efficiency (BFE) test will only be required if the mask is for medical use.
During the pandemic, BFE is not that important for our daily life because the coronavirus is 1000 times smaller than bacteria. However, PFE is the one that we need to pay attention to because aerosols spread the coronavirus.
The filtration efficiency of a mask will get lower and lower with time passing. Hence it would be better to use a new mask every 4 hours. When you are going to be exposed in public for a long time, for example, long-distance travelling, you shall choose masks with high PFE.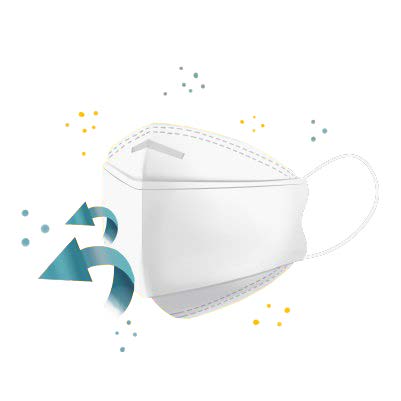 PFE = Particle Filtration Efficiency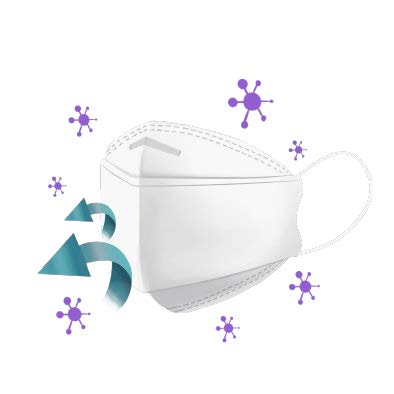 BFE = Bacterial Filtration Efficiency
2.3 Breathing resistance
Breathing resistance determines how comfortable when you wear the face mask. The smaller it is, the more comfortable you will feel. As mentioned above, air will be leaked from the side of the mask, so it is not always with small breath resistance when you feel good about the mask. Sometimes it is because the mask doesn't fit your face well.
It is not good either too big resistance or too small. It should follow the national standard of different countries and regions.
Based on ensuring the protection efficiency, the smaller the resistance, the smoother the breathing and the more comfortable it is to wear;
Wearing a comfortable mask may not necessarily mean low resistance or air leakage;
The best way to test is to put the mask on your mouth, inhale and exhale, and feel the resistance;
The filler, melt-blown fabric, and production process determine the mask's resistance.
2.4 Loading test
The loading test is not a necessary test item for CE. Thus many manufacturers will ignore it when they apply for a CE certificate. But it reflects how long the mask/respirator can function.
Changing a new mask after using it for 4-6 hours is recommended; as stated previously, the filtration efficiency gets lower and lower with time passing by.
If the mask or respirator can't pass the loading test, it usually functions for only one hour and is almost the same as gauze.
Many CE reports also do not load test data
Even qualified masks can only be used for 4-6 hours and should be replaced in time
A large number of unqualified masks are effective for less than 1 hour, which is equivalent to not wearing them
2.5 Shelf life of the mask
To test the shelf life of the mask and its ability to against harsh environments, an ageing test will be carried out.
Tested samples will first be put under 70 degrees for 72 hours. After finishing the first stage, the tested sample will be put in a cold environment for another 12 hours. All of those are carried out to accelerate the test. Then it will be examined from respiratory resistance, filtration efficiency and loading test.
3. Materials of face mask
3.1 Melt-blown woven
Melt-blown woven is essential to the face mask, and it determines the quality of the mask.
The face mask is kind of a net to your face, and the mesh of the "net" needs to be small, so that bad things will not come inside. Unlike other fabrics, the melt-blown fabric is a pin of extremely thin fiber (diameter about 0.5-10 micrometres) stacked on top of each other. However, it is not a tight weave, and air can pass quickly, but viruses and other particles are hard to pass through. It holds an electrostatic charge and significantly increases filtration efficiency. Melt-blown woven is essential to the face mask and decides the performance of the mask.
The price of meltblown woven of different qualities can be 100 times different
Meltblown cloth determines the upper limit of the protective effect of the mask
3.2 Non-woven & ES hot air cotton
The basic construction of a face mask or respirator is outside non-woven, melt-blown woven, and inside non-woven.
The outside non-woven is waterproof and can protect the melt-blown woven. Inside non-woven is very soft and comfortable because it touches our face skin directly.
Some manufacturers will add another layer of ES hot air cotton between the outside non-woven and melt-blown woven when making masks, especially for those respirators with high protective standards.
ES cotton, or ES hot air cotton, is a composite fibre which is soft, moisture-absorbent and can shape the respirator better.
3.3 Ear-loop / Ties
Ear-loop and ties of the mask are also important accessories. With the use of ear-loop and ties, a mask can better fit our face and perform better.
The wider the ear-loop/tie, the more comfortable you will feel wearing them.
3.4 Nose Bridge Strips for Mask
There are two types of nose bridge strips used in face mask production. One is made of aluminium and is always applied on the mask's outside layer, which you can observe. Another type is made with plastic and a very thin metal wire. These nose bridge strips are inserted between the mask's inside layers. You can't see it directly and can feel it if you touch the mask.
Both strips have the same function that fits snugly well with your nose and reduces leakage. No matter the strip type, they must be well-shaped and rebound as little as possible.
Nose bridge strips increase nose fit and reduce leakage
High-quality nose bridge strips must be shaped to reduce rebound
External and internal bridge strips work the same
The normal edge of the external nose bridge is very smooth, and there is no risk of injury
4. Manufacture of the personal protective masks
Normally the manufacturer doesn't produce the raw materials of mask by themselves (including non-woven fabric, melt-blown woven, ear loops and others) but buys from others. Core manufacturing steps consist of folding the fabric layer by layer, inserting the nose bridge strip, cutting the shape and applying ear-loop/ties.
The raw material determines the upper limit of the mask, and the production process maintains the lower limit of the mask
The production process is the mastery of material stress, which is related to the machine, but the same machine may also have a big gap
The production process also includes controlling the interaction between raw materials, transport packaging and storage conditions, etc.
High-quality manufacturers will make a small amount of customization of the mask machine, and senior masters will control it at any time.
High-quality manufacturers will use professional equipment to conduct random tests at any time to ensure the level of craftsmanship
We offer a variety of solutions for customized masks and respirators. Pattern, colour and packaging can be customized and meet your needs.
5. How to distinguish a qualified CE-marked mask and fake ones
Check the appearance of the mask. It is required to print the designation, classification, specification of the standard and the CE mark with notified body number on the mask.
Check if the notified body can issue the CE certificates. Not all notified bodies can issue the CE certificates for a mask because they need to comply with the scopes authorized by CE. Put the 4-digit number of the notified body into the database, then search it to see if they are authorized with the legislation of (EU) 2016/425 Personal protective equipment. Click the legislation and see if there are any details about the "respirator". If yes, they can issue the certificates.
Check if the CE certificate is out of valid or not. To verify the CE report, you need to enter the official website of the notified body. Then you can input the number of the certificates or test numbers if they offer online verification. Otherwise, you need to call them or write them an email.
Worldbrace sources different kinds of masks and respirators from trusted and qualified manufacturers. We have supplied billions of masks and respirators to Europe and the United States since the outbreak of COVID-19. To assure the quality of the mask, each batch shipped is inspected by our QC department on the site. Contact us to find the solution to your customized mask and respirator.