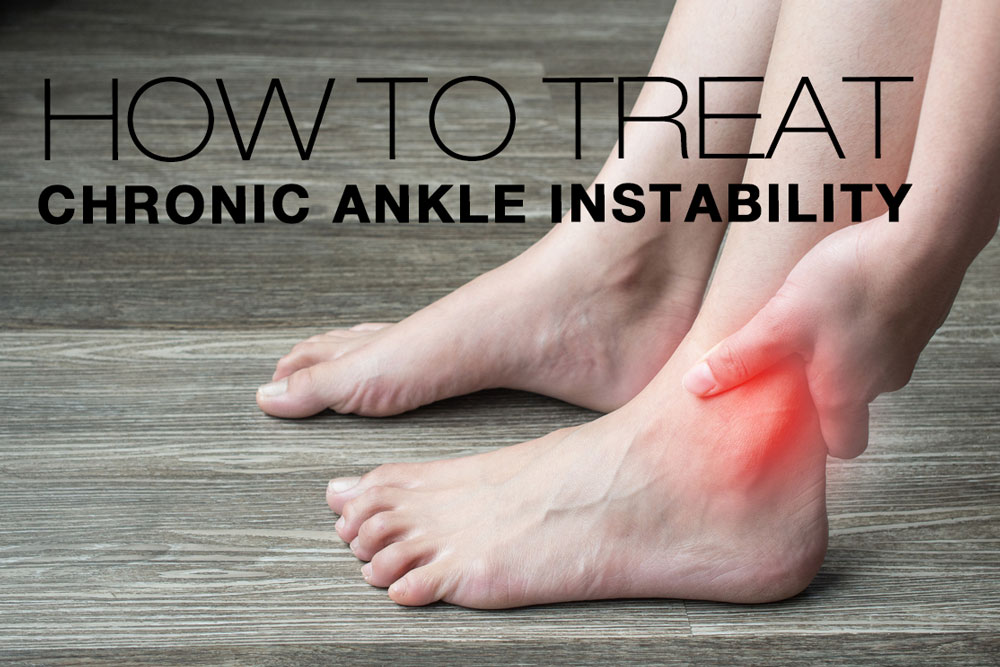 WHAT IS CHRONIC ANKLE INSTABILITY?
Ankle instability mostly begins with repeated painful sprains. This condition is developed due to an injury to the lateral (outside) ankle ligament. The severity of this condition involves tears and sprain in the ligaments.
A ubiquitous question is the actual definition of chronic ankle instability. This condition involves a recurring giving way of the ankle's outer (lateral) side. The instability of the ankle develops due to repeated ankle sprains. Usually, people complain about such conditions, often going for long walks and doing physical activities. Still, in many other cases, it is preserved when no such action was mentioned, and a mere standing position brought the 
same symptoms. As a result, various athletes, as well as others, were diagnosed with chronic ankle instability.
Moat heard complaints of people with chronic ankle instability;
The sudden twist in the ankle while walking on uneven surfaces or participating in port activity.
Constant swelling and discomfort
slight tenderness and pain
The instability of the ankle and feeling shaky
WHAT CAUSES ANKLE INSTABILITY?
The primary cause of chronic ankle instability is unattended and inadequately healed ankle sprain or a wrench not fully rehabilitated. The connective tissues or ligaments are tugged and damaged if sprained ankle.
As a result, the balancing power of human being gets badly affected. Chronic ankle instability requires formal rehabilitation sessions to retain the ankle muscles' strength and regain balance. If not, the patient may suffer from repeated ankle sprains. Constant ankle sprains may lead to and perpetuate chronic ankle instability. Each subsequent sprain damage and weaken the ligaments ending in massive instability and may cause more complications in the ankle.
HOW DO YOU TREAT CHRONIC ANKLE INSTABILITY?
The conservative treatment is opted to treat the static disorders, balance deficits, and proprioception deficits. Although, as per the analysis, the rehabilitation procedures and muscle training were also found beneficial for the patient, it has been reported that patients with initial functional instability quickly benefit from rehabilitation compared to those with mechanical instability.

If the conservative treatment fails in healing the patient's instability, the operative treatment is the second and last option to be indicated. The list of patients with repeated ankle sprains, mechanical instability and, skeletal fragments in the malleolar region, limitation in activities may get relief through operative treatment. As per the records and studies, patients who opted for surgical repair showed better muscle sufferance and a stable posture than those who had to undergo conservative treatment. The objective of the surgery is to reinstate stability of the ankle joint with lesser risks of sprain in the short term and articular degeneration in the longer run.

There are two types of surgical techniques to attain ankle joint stability;

Suture repair
Graft reconstruction
WHAT IS THE BEST ANKLE BRACE FOR CHRONIC ANKLE INSTABILITY?
Patients with chronic Ankle Instability, regular ankle sprains, plantar fasciitis, or tendonitis must wear an ankle brace for primary protection and compression. Figure 8 ankle brace is one absolute choice for primary ankle instability issues;
This brace can vanish swelling symptoms and ankle pain.
Protects exercise and excessive walks
It is waterproof and skin-friendly
They are breathable and extremely lightweight
Super easy to wear and carry
They are washable
It has multiple wearing modes. To get a brief explanation, click
An ankle brace will help soothe the pain and maintain the ankle muscle's stability by providing a firm grip on the ankle for patients suffering from chronic ankle instability.
World brace brings a variety of ankle braces to help heal all sorts of ankle instabilities and dysfunctionality of the ankles. World brace is an expert in customizing braces as per the demanded size and usage. Other than the figure 8 ankle brace, there is a wide variety of braces available on our site, including copper ankle brace and elastic neoprene ankle brace.
Chronic Ankle Instability | Recurrent Lateral Sprains
The best part of the answer is that it can be treated through regular primary rehabilitation sessions before opting for the surgical method.
Unfortunately, most enfeebling foot or ankle injuries may end up disqualifying. The applicant cannot join the military even if the ankle injury is healable.