Knee Brace For Patellar Tendonitis
| | |
| --- | --- |
| Item No. | KB102 |
| Material | Neoprene |
| MOQ | 1000 PCS |
| Service | OEM, ODM, OPM |
| Lead Time | 30 days |
| Pakaging | 1 polybag /pc or customized box |
| Customized | Customized design, LOGO, color , sizes, material, packings, boxes |
The dual action knee strap provides you with complete mobility and maximum benefits for relieving knee pain. The unique knee belt absorbs can help people disperses the pain-causing forces and reduces inflammation.
Support Above The Knee: Additional reinforcement is achieved by applying pressure on the tendon above the kneecap, reducing the forces of the quadriceps on the Patella Tendon.
Support Below The Knee: Stabilization and tightening of the patella by applying pressure to the patella tendon below the patella improve patella tracking.
Lightweight and breathable: we use a soft, flexible neoprene material that wicks away sweat and moisture while helping to protect the kneecap.
The adjustable design allows you to wear it under your clothes. And won't cause skin irritation, even if you wear it during heavy workouts or long workdays.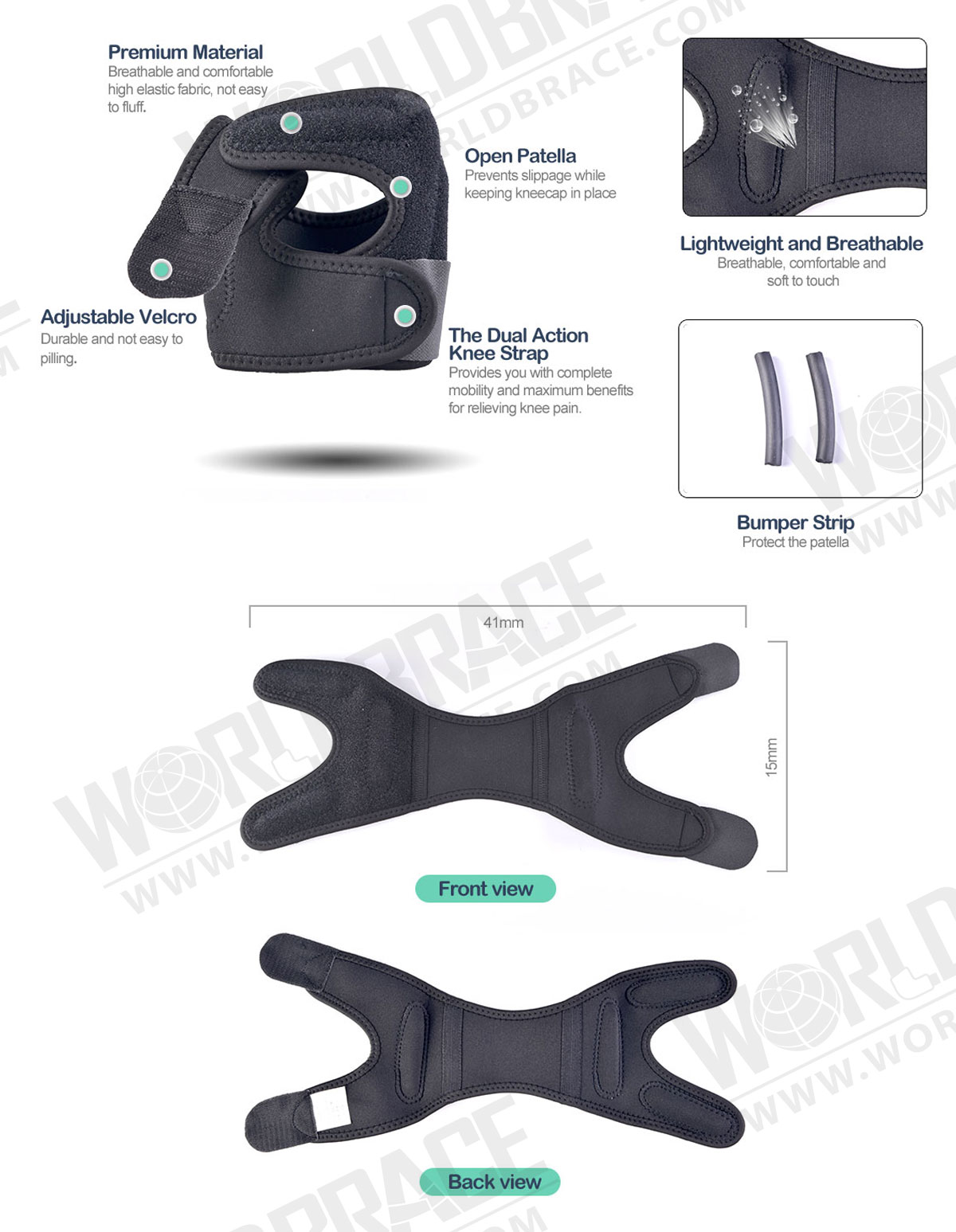 How to wear Knee Brace For Patellar Tendonitis
How to wash Knee Brace For Patellar Tendonitis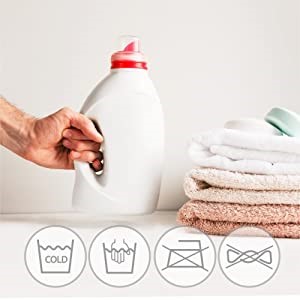 Don't machine wash
You can hand wash this with mild soap and warm water
Its light fabric requires minimal wash effort
Do not use dryer sheets
Do not use fabric softener
Wash with like colors
How to choose the best Knee Brace For Patellar Tendonitis?
What is a knee brace for patellar tendonitis?
The knee brace for patellar tendonitis are made of elastic materials such as neoprene, plastic or styrofoam. During sports, they are worn on the knee to stabilize and protect your knee after an injury and give the damaged patellar enough time to heal. Knee pads can also prevent injuries in close contact sports such as football, basketball and running.
What is patellar tendonitis?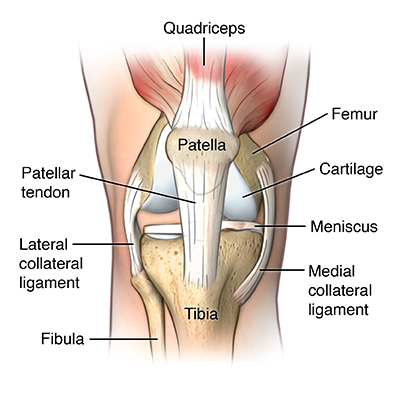 Patellar tendonitis is the tendon that connects your patella, or kneecap, to your shin bone in your lower leg. When it is damaged or inflamed, it is called Patellar tendinitis. The patellar tendon plays a vital role in the normal movement of the leg. It helps your muscles control your lower legs so you can kick a ball, ride a bike, jump, etc. Patellar tendinitis is the most common injury in athletes who play basketball, soccer, volleyball, etc. For this reason, patellar tendinitis is also known as "jumper's knee."
How does a knee brace for patellar tendonitis work?
A knee brace would have two primary functions – to provide support after a knee injury and to prevent further damage to the knee. It restricts the mobility of the knee joint to stabilize the leg and help the knee recover faster, which also reduces pain and swelling associated that are usually with knee injuries. For varying levels of support, there are different types of knee braces available.
What symptoms does knee support apply to?
Sports injuries and sprains of ligaments, especially the ACL. In addition, Meniscus injuries are also widespread among people who play sports. A meniscus tear occurs when the rubbery cartilage between the femur and tibia bones tears and is subjected to twisting or rotation. This causes pain, swelling and stiffness. Knee braces are also commonly used for symptoms of jumper's knee, such as inflammation (patellar tendonitis) and thickening (patellar tendonitis) of the patellar tendon and runner's knee, a broad term for knee pain also known as patellofemoral pain.
Benefits of using knee support for patellar tendonitis
1. Open patella and open popliteal fossa
If you find that plastic or other hard materials tend to be sweaty and uncomfortable, this bracket is definitely for you. Although full-coverage knee pads provide a little extra support, they tend to accumulate behind your knees and move during sports. The opening above the kneecap reduces your pressure knee pain, making the protector more breathable and flexible than sturdy knee caps. In addition, a round cut behind the knee (popliteal fossa) helps prevent the brace from coming together during walking or bending.
2. Lightweight and breathable design
The soft neoprene mixture helps relieve pain and keeps knees supple while maintaining body temperature and soothing warmth without irritation to the skin. There are small holes in the fabric at the knees to allow heat and moisture to escape, improving breathability and making wearing more comfortable.
3. Accelerate the natural healing process
Your body needs enough time to heal your muscles and joints. But sometimes, you can't give your body enough time. Knee braces are an excellent solution to lighten the load on the knee part to aid recovery.
4. Ergonomic design
Our knee support is ergonomic; Not only does it provide convenience for your daily life, but it also provides the support your injured knee needs to sleep or rest. Allow your injured area to heal optimally at night. This knee brace is designed specifically for the left or right leg to fit the curve of your knee.
5. Adjustable
Our classic adjustable knee Support provides solid support and a flexible compression range. Open the kneecap to prevent slippage while keeping the kneecap in position. 4-way compression custom fit. Tension bands provide a custom fit control for compression.
Where can I buy a knee brace?
If you want to buy some braces for a knee injury, you can get them from Amazon, Walmart, Target, or other shopping platforms. But if you're going to customize a batch of knee braces or look for a professional knee support factory, you can find WorldBrace, a Chinese knee brace manufacturer. We will offer you professional advice and quality service. Look forward to our pleasant cooperation!
Best knee brace for patellar tendonitis manufacturers in China
Different brands have different prices related to brand design, raw materials, monthly sales, brand marketing costs, etc. If you seek a knee brace or have any questions about knee support, you can contact the WorldBrace team for more professional help and excellent service. We will provide you with the help within 24 hours to customize the best quality plan.
Worldbrace is an OEM manufacturer of quality sports care products. Our professional team supports an integrated process from concept design to mass production. Contact us and work with us!