Pregnancy Back Brace is made of skin-friendly and cruelty-free material with no chemical smell, suitable for any sensitive skin.
Stays in place: because you can control the tightness according to your body shape and belly size, the pregnancy belt will firmly bind your belly and waist, never drag upward.
Feel loving: our belly band supports your belly just like you lift it with your hands while sitting and walking; your fetus feels your care and love like in a cradle.
Keeps positive emotion: because our belt can support your pregnant belly, get out of your pelvic pain from carrying a baby, make you stay active and happy, feel more confident after having a baby.
Durable and adjustable: It will work until the end of your pregnancy thanks to its sturdy and robust Velcro and elastic fabric that provides support for your growing belly.
One size fits all: Our pregnancy support belt stretches to fit your natural curves.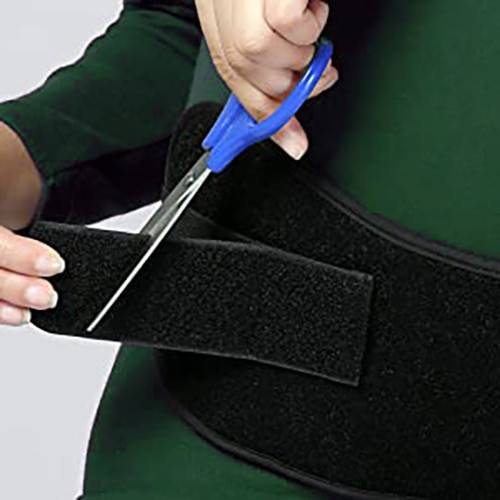 Customizable Double-Sided Hooks And Loops. Double-Sided Hooks And Loops
The "hooks" side attaches to the abdominal pad, and the "loops" side will receive the "hooks" side of the back support for more adhesion (see step 3 of the instructions below).

Measure belly growth. When initially wearing the belt, keep only the length of the hooks and loops you need to attach the back support to the abdominal pad (see step 2 of the instructions below).

As the belly grows, you will gradually attach the fabric hooks and loops more to the side of the abdominal pad.Then you can cut the protruding hooks and loops once again. The length you cut is equal to the amount of belly growth!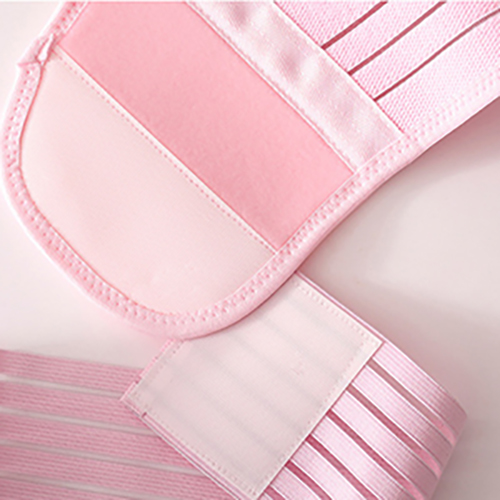 Comfortable abdominal pad
The abdominal pad must be as comfortable as possible. It sits a little above the public area under your belly.

As you walk, it will move a little and rub on your belly. We understand this and have chosen a cushioned, resilient fabric, and provides the best comfort level.

This product is designed for walking or standing positions. When sitting, we recommend separating the fabric hooks and loops for ease.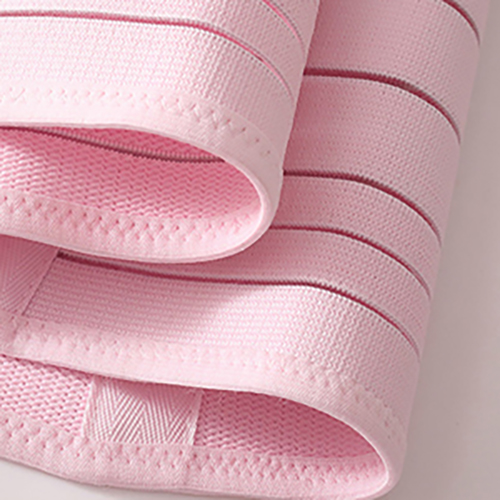 Breathable fabric
The fabric is a multi-layer laminate with a stretch lining that combines breathability, stretch, and comfort.

The comfort level of the back support is just as important as the abdominal pad, as it could rub on your back while walking or moving .

Maternity belt is highly breathable, comfortable and provides the elasticity needed to hug your body shape perfectly and give proper support to your lower back.
How to wear pregnancy back brace
Center the abdominal pad under the abdomen and attach it with fabric hooks and loops to the desired level of support.

Cut the hooks and loops band that is labeled "Cut the extra hooks and loops band you don't need" to keep a length that matches the border of the abdominal pad. The hooks and loops band should cover the abdominal pad but not more. As the belly grows and the position of the hooks and loops fabric on the abdominal pad changes, you might want to cut the hooks and loops band again.

Attach the hooks and loops of the back fabric to the location on the abdominal pad that provides the desired tension.
To help keep the support in place and prevent it from sliding down, stretch the top strap over your stomach and attach both sides to the fabric hooks and loops on the back.
How to wash pregnancy back brace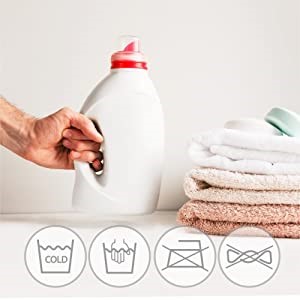 Machine wash cold permanent press cycle
Wash with like colors
Only non-chlorine bleach when needed
Tumble dry low heat
Cool iron only
Do not use dryer sheets
Do not use fabric softener
How To Choose The Best pregnancy back brace?
What is a pregnancy back brace?
Pregnancy back support is designed to reduce the pressure caused by the abdomen on the body during pregnancy. Our pregnancy back support can help reduce the burden of pregnant women relieve the symptoms of falling feeling and waist pain so that mothers can have more time to prepare for the upcoming baby.
How does the pregnancy back brace work?
Pregnancy back support reduces pain and increases stability by gently hugging your uterus to relieve pressure on your abdomen and back from your baby. Gentle compression helps make daily activities and prenatal workouts easier by providing your muscles and spine with the extra support they need.
Benefits of using a pregnancy back brace:
1. Relieves stress and chronic pain during pregnancy such as pelvic pain, sciatic nerve pain.
2. Shift the baby's weight away from the abdomen, hips and waist to support the core of the body.
3. As your core muscles take on the extra weight of your baby, it helps to correct your body posture.
4. Reduce swelling to increase mobility, stability and center of gravity.
5. It is made of a comfortable, breathable neoprene material that will not make you feel uncomfortable or stuffy.
6. Adjustable Velcro straps are designed to be used between 3 and 9 months of pregnancy.
Where can I purchase a pregnancy back brace?
If you need a back brace for your duration of pregnancy, you can buy it at Amazon, Walmart, Target or an offline store. But suppose you want to customize a batch of a back brace or looking for a professional back brace manufacturer. In that case, you can find WorldBrace, a Chinese back support manufacturer, for professional advice and quality service. Looking forward to working with you and having good cooperation!
Tips: If you have any uncomfortable symptoms during use, please stop using immediately to avoid harming you and your baby.
The best pregnancy back brace manufacturers in China:
Different brands have different prices related to brand design, raw materials, monthly sales, brand marketing costs, etc. If you are looking for a back brace or have any questions about the back brace, you can contact the WorldBrace team for more professional help and excellent service. We will help you within 24 hours to customize the best quality plan.
WorldBrace is an OEM manufacturer of quality sports care products. Our professional team supports an integrated process from concept design to mass production. Contact us and work with us!